Spanish Theme Party Ideas
Spanish flag
For many Americans, parties can be very cumbersome sometimes, especially when the same themes are done over and over again. It's always the same food, the same music, the same venue, the same food and the same decorations. Parties are supposed to be fun, but if there's nothing new, the guests don't have anything interesting to look forward to. If you're planning to have a party, you should think of a clever and unique theme that your guests haven't seen yet.
If you're looking for a theme that's fun, but not too outrageous, why don't you try to use a culture-oriented theme instead? You can try a Spanish theme for a unique and slightly sophisticated party. The people of Spain have a rich culture that you might find both interesting and enjoyable.
It's easy to pull together a Spanish theme party, as long as you have some knowledge of their culture and you know the essential elements for the event. For one, you need to find a suitable location for your party. A large and spacious home or function room would suffice. If you can, get Spanish vases and antiques to place around the venue as decorations. Fresh flowers would also look appropriate and beautiful. Just remember to stay away from chrysanthemums and dahlias because in Spain, they are popularly associated with death.
Spanish Food
Another important aspect that you need to focus on is the food that you'll be serving. Remember, Spain is well-known as a country that has a wonderful and delicious cuisine derived from Jewish, Moorish and Roman roots. You should then be able to provide a wide variety of Spanish food that can satisfy your guests' appetites, including the "tapas" or appetizers, the main dishes, and the dessert.
Popular Spanish dishes include paella, jamon serrano, arroz ala cubana, calamares and gazpacho.
| | | |
| --- | --- | --- |
| Delicious Paella Dish | Tasty Jamon Serrano | Refreshing Gazpacho |
For dessert, you should serve turron (Spanish nougat), made from almonds and honey, or the popular churros (fried dough pastry), which is dipped in a cup of thick, hot chocolate.
Activities for your Spanish Theme Party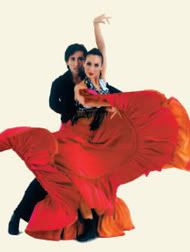 A couple enjoy salsa dancing
Lastly, you should prepare a fun activity that your guests can enjoy, such as dancing. Flamenco is very popular in Spain and is also fun to perform because of its lively beat. Get a dance instructor so that he or she can show you how to properly do the dance.
A Spanish theme is a very good option that you can consider for your party. With its elegant, refined but enjoyable nature, this party is sure to be a hit among your guests, and they will certainly be very impressed by your creativity and originality. You'll enjoy the great food and enjoy dancing the night away!
Click play on the video below to see the Flamenco dance in action.
[Be a Partythemeplace Member]
View Comments:
5