Choosing a Cartoon Theme Party
Looney Tunes is a good theme for all ages
Many parents today pick cartoon themes for their child's birthday blowout, since they are usually quite simple to prepare. For one, there are numerous party supply stores that sell different kinds of cartoon merchandise, including
invitations
,
decorations
and even game packages.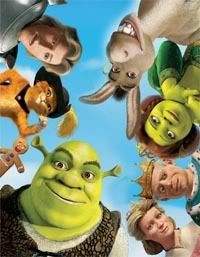 Shrek is a favorite for all ages
Many parents become confused when picking a cartoon character theme for their children. With the numerous options available today, it's easy to get lost as to which one will suit the child best. You'll have to consider the child's preferences (which cartoon he or she likes the most), age and gender. Here are several popular cartoon character themes today. Which one will be perfect for your child?
Hello Kitty and Teletubbies: These cartoons are probably those that your child has been exposed to since he or she was barely a year old. With their mild and very childish content, they are very appropriate for children who are between 1 and 3 years old.
Blue's Clues, Sesame Street, Veggie Tales and Dora the Explorer: When children reach preschool, they are more inclined to watch shows that allow them to learn. That's why these cartoon character themes will suit your child just fine. Use these themes for children between 4 and 6 years old.
Looney Tunes and Sponge Bob Squarepants: Children become more energetic as they grow older, and they also like watching cartoons that that they can laugh along with. With their funny content, these cartoon themes suit children between 7 and 9 years old.

| | | |
| --- | --- | --- |
| Sponge Bob Squarepants cake | Blues Clues character for young kids | Teenage Mutant Ninja Turtles Costume |

Shrek and Teenage Mutant Ninja Turtles: For kids that are ten years old or more, these cartoon party themes are practical. These cartoons are funny and entertaining, yet also contain some violence that younger children might not understand yet.
With a fun cartoon character theme, your child would certainly enjoy the birthday bash, making it one of the most special and memorable days of his or her life.
One great activity to add to a party is a pinata. Here's a video of a birthday party with a Sponge Bob Squarepants pinata for the kids.
[Be a Partythemeplace Member]
View Comments:
7